Most of the Controller's Office uses the ServiceNow system to help us provide the best possible customer support to the campus. Tickets are routed to different teams within the Controller's Office for resolution, and it is not always apparent to the customer who is currently working on their ticket. ServiceNow offers visibility to customers though the Employee Self-Service Portal (ESS). ESS gives you basic information on your ticket, including the name of the person assigned to the ticket.
You can access ESS using any web browser. Unless you are already logged into MyAccess, the system will prompt you to login to MyAccess. Under your name and the Service Desk Chat located on the upper right of your screen, you will see a link to "View My Tickets."
Click the link to view a list of all your ServiceNow Tickets. You can sort the list using any column by clicking the icon next to the column name and selecting a sort option. Sorting ascending (a to z) by "Age" will bring the newest tickets to the top of the list.
To more easily identiy the ticket you need, scan the "Short Description" column. For tickets generated from an email, the subject line of the email will populate in the "Short Description" field. Once you have identified the ticket, click on the ticket number in the "Number" column.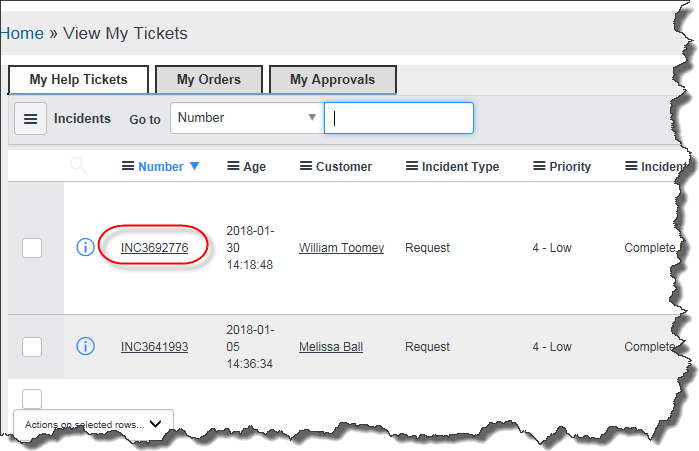 This link will take you to the header details for the ticket, on the bottom right you can see the "Assignment Group" and the name of the specific person in "Assigned To":