The Asset Management Report can be found under the Transactional Reports tab in MyReports.
There are numerous ways to search for and filter data in MyReports to meet your needs. For inventory purposes it is easiest to search by Custodian Name or Custody Code. These fields are in the Report Specific Filters section on the bottom of the page:

Notice that the Status field will default to show only In Service, or Active Assets. Depending on what you would like to review, this can be changed by selecting All or Disposed from the drop-down box.
Filtering by the Custody Code(s) or Custodian Name(s) is the most common filtering choice for capital assets. Refer to the Physical Inventory Cycle for a list of Custodian Names and Departments.

You may filter for multiple Custody Codes by clicking the magnifying glass and adding selections.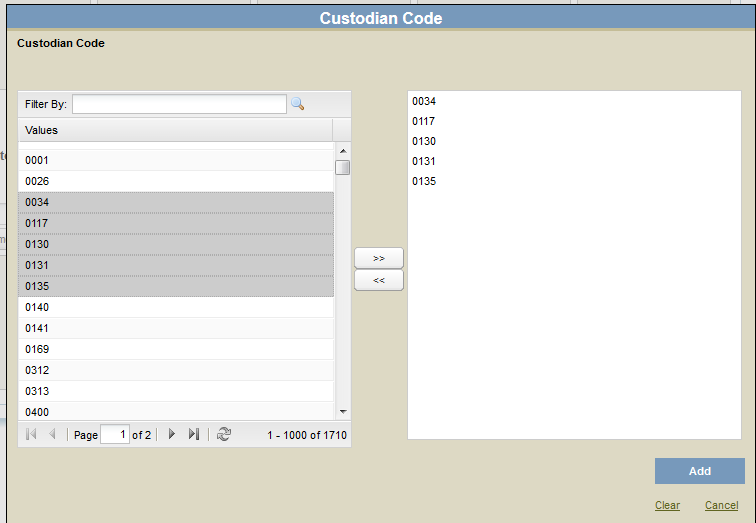 You can run reports in On Screen HTML, PDF, or Excel Spreadsheet format. Once you have made your selection, click the Run Report button to generate your results.

Running the report to Excel or PDF form will open a new window or tab that will download the report as an attachment for you to open. Using the default On Screen HTML will bring up the report in a new window or tab:

The report will list the items by Asset Tag ID (Property Tag Number) and includes a detailed information about each asset, including additional fields not shown in the screenshot above.
At the top of the report, you can view the filters you selected. In this example, we filtered by Custody Code 7281 which displays at the top of the report, while all other fields are listed as All.
Once the report has run, in the HTML Version, you can further sort your data by using the tools in the upper right hand corner of the report:

Using these sorting tools can be very helpful if you are dealing with multiple Custody Codes or a large set of data. Once you have sorted your report, you can chose to open the sorted version in Excel or PDF as well by clicking on the icons above the sort fields.
Contact
If you have any questions or experience any problems with the Asset Management Report, please contact Capital Equipment & Accounting.
If you have any questions about MyReports, consult the MyReports How-To Guides or contact the Controller's Office Solutions Center.