Department (also referred to as Dept ID) chartfield is a 6-character alphanumeric value which identifies the organizational unit involved in transaction or responsible for resource. Departments are seen as "Cost Centers" whose managers are responsible for all its associated costs and for ensuring adherence to its budgets. It is a required field on revenue, expense, and transfer transactions.
A Department is defined as a distinctly identifiable department, division, or unit of an organization whose managers are responsible for all its associated costs and for ensuring adherence to its budgets
It represents an entity or activity with a defined business objective. Typically, a Department functions as an organized group of employees with a leader (director, chair, manager) who is accountable for the use of an operational budget. A Department can encompass multiple programs/projects and, in most cases, is assigned physical space.
A Department may indicate how an organization is set up. For example, if there are three centers within a department, then each center might be assigned a unique Department to differentiate its activities. A Department designates ownership or stewardship of a transaction or a funding allocation. Funds are common across the campus, but are divided into individual pots of money by Department. For instance, most departments have funding from General Funds, so the Department separates the School of Pharmacy's share of General Funds from the School of Nursing's.
A Department should not be established to limit security access. It also may not reflect the same human resources structure.
Purpose/Use
Department chartfield should be used in a way to mimic how you manage your business. It aids in tracking, reporting, and accountability. A new Department may be established when:
A new organization has been established as a cost center to track activities separately from existing Departments
The new organization needs separate accountability or reporting
Department trees
Departments will be organized into tree levels in PeopleSoft to facilitate reporting and accountability. Financial postings always occur at the lowest level. Depending on the size and breadth of the organization, the lowest level may differ across units. For example, School of Pharmacy may have a control point level 1 roll-up department called School of Pharmacy, and may have direct posting-level departments that report to the School of Pharmacy. In this example, financial posting occurs at level 2. On the other hand, Financial and Administrative Services (FAS) may have a control point level 1 roll-up Department, followed by a level 2 roll-up division for campus life services, followed by a level 3 roll-up Department for facilities management, followed by the posting-level Department for facilities maintenance. In this example, financial posting occurs at level 4. Differentiation between posting-level Departments and roll-up (reporting) level Departments are distinguished using an attribute.
The Department posting and roll-up/parent concept is demonstrated as follows: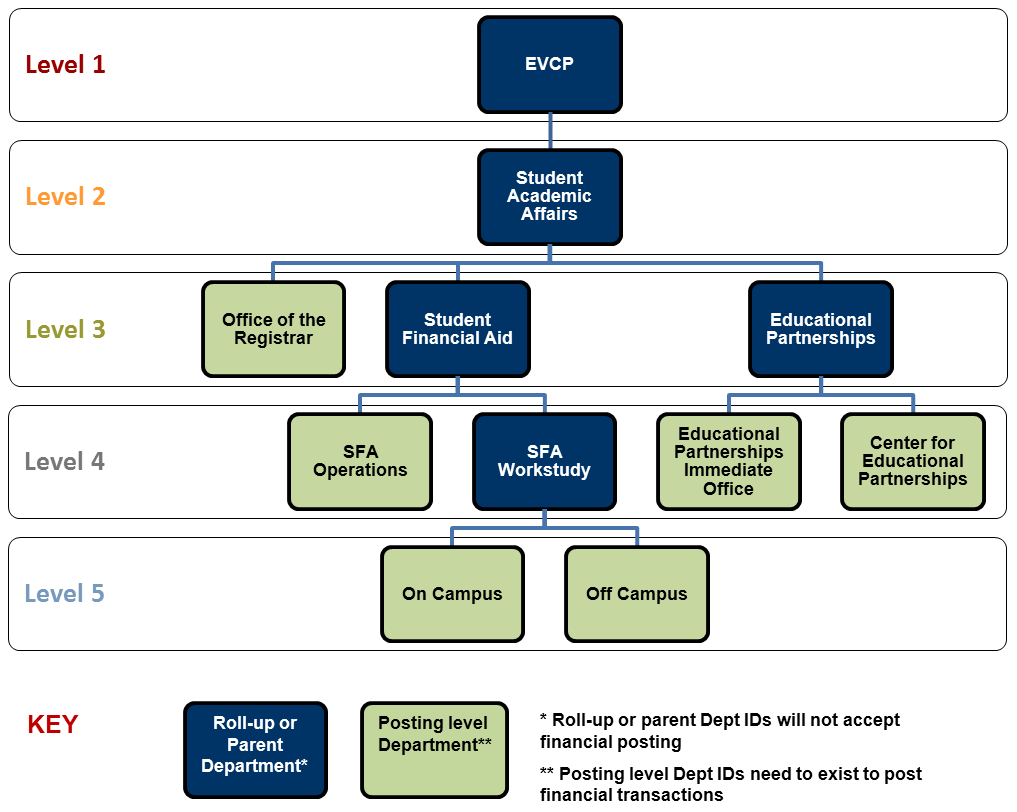 Attributes
Field Name
Type
Length
Description

Set ID

AN

5

See Set ID description in Account chartfield attribute.

Department

AN

6

An alphanumeric value assigned to a department.

Effective Date

Date

The date that the attributes and definitions associated with a department go into effect.

Effective Status

AN

1

Department status as of Effective Date:

Description

AN

30

30-character department description

Short Description

AN

10

10-character department short description

Budgetary Only

AN

1

Y/N value, indicate whether the department value is to be used for budgetary purposes only. A budgetary department will not be available for recording financial (i.e., actuals) transactions.

Posting Level

AN

1

Y/N value; indicates whether the department is allowed to have transactions posted to it. A posting level has no children departments.

Filler

AN

1

Y/N value; indicates whether the department is a filler level department to be used to build a department tree.

Site

AN

3-4

Code and Description of Site attributes are identified in table below.

Department Type

AN

1

An optional field used by School of Medicine (and potentially by other schools) to capture the type of department:

B – Basic Science

C – Clinical

D – Dean's Office

I – Interdisciplinary Program

O – Organized Research Unit
Site
Site is a department chartfield attribute with the following codes and descriptions:
| Code | Description | Source of Request |
| --- | --- | --- |
| PARN | Parnassus | FAS |
| VAMC | Veterans Affairs Medical Center | FAS/SOM |
| LHTS | Laurel Heights | FAS |
| ZION | Mt. Zion | FAS |
| SFGH | San Francisco General Hospital | FAS/SOM |
| MCB | Mission Center Building | FAS |
| MBAY | Mission Bay | FAS |
| OYST | Oyster Point | FAS |
| MONT | Montgomery Street | FAS |
| REMO | Remote | FAS |
| CORE | Core Campus | SOM |
| FRES | Fresno | SOM |
Numbering Convention
There is no numbering convention in the Department field. It will be a Controller's Office generated 6-character alphanumeric value. A department tree will be built to roll up department to reflect organizational hierarchy.
Campus vs. Medical Center Dept ID Design
Due to Hyperion reporting limitations and configuration requirements it will be necessary to require unique field values for Dept ID. Thus, Dept ID will only be configured under a single SetID with each value unique.
The Medical Center team has confirmed they will work with (and around) the required Dept ID values that are required for OSHPD reporting.