This guide explains how to use the PeopleSoft Worklist. The Worklist provides one easy-to-locate tile within PeopleSoft to view and take action on items, including:
General Ledger journals pending approval
Equipment Inventory Modification Request (EIMR) forms submitted by your assigned Custodial Delegate
Transaction denied notifications for workflow items you initiated
Certain notifications sent from others using the Notify buttons available on many PeopleSoft pages
How to Log into PeopleSoft and Navigate to the Worklist
Log into MyAccess

(opens in new window)

(not shown). Scroll down to locate and select PeopleSoft Financials from the application menu. If you have set MyAccess to display "Favorites", you may need to change to "All Apps" or search for PeopleSoft.
Click on the Worklist tile from the homepage.
The Worklist tile includes a counter representing the number of outstanding items.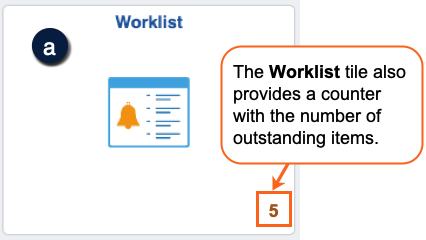 How to Use the PeopleSoft Worklist

Use the Worklist Filters drop-down to display only one type of Work Item .
Use the back, next, first page, and last page icons to change pages, or click View All to see all items on a page .
Use the Grid Action Menu to access other view options and to export your Worklist to Excel .
Priority is automatically set to 1-High for all Approval Workflow activities. You have the option to set your own Priority for each item .
Click on the Link for any item to open the related transaction .
Click Mark Worked to remove notifications and other items not related to an approval workflow. Approval Workflow items will only be removed once approval action is taken by you or another assigned Approver .
Click Refresh to display new items since the last Refresh .