Capital Accounting review purchase orders (POs) issued by Supply Change Management (SCM) to identify items that meet capitalization of equipment threshold:
Movable equipment, and
Acquisition cost of $5,000 or more, and
Useful life of equipment over 1 year.
For new equipment that meets the capital equipment threshold, Capitalized Asset Management (CAM) sends an Asset Information Form and a self-adhesive white sticker with the property tag number to the department Equipment Custodian by campus mail. The Equipment Custodian should be affixed property tag to the equipment where it is clearly visible and return the completed Asset Information Form to CAM.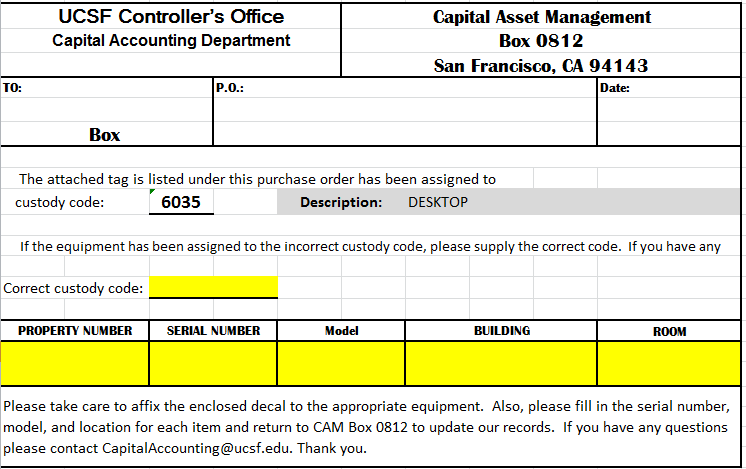 When the invoice is received and vouchered by Capital Accounting, capital equipment is added to the official capital assets inventory system. The information is made available in MyReports for departments to view. Departments can view the MyReports Asset Management Report which provides detailed information about capitalized assets and can be used to perform the departmental physical inventory. You may contact Capital Asset Management and request an up-to-date list of your department's Capital Assets.
Resources
References
Forms
Policies