This guide explains how to delete journals in PeopleSoft. During the month-end close process, departments should review journals not yet submitted or approved for the current open period. Any journals not needed should be deleted by the original Journal Preparer. To aid departments in this process, department Journal Approvers can review their Worklists to identify journals not approved. Consult the Controller's Office General Ledger Monthly Schedule (opens in new window) for monthly reminders to review Worklists and delete journals.
Logging in and Navigating to the Create/Update Journal Entries Page in PeopleSoft
Log into MyAccess

(opens in new window)

(not shown). Locate and select

PeopleSoft

from the applications menu.

Click on the General Ledger tile, then click on the Create/Update Journal Entries tile .

Searching for Unposted Journals to Delete
Click the Find an Existing Value tab .
Enter the correct Business Unit .
Set the Journal Header Status drop-down to not = and then select Posted to Ledger(s) .
Enter your SFID in the Original Preparer's Userid field .
Click Search .
Select the journal to delete by clicking the Journal ID link .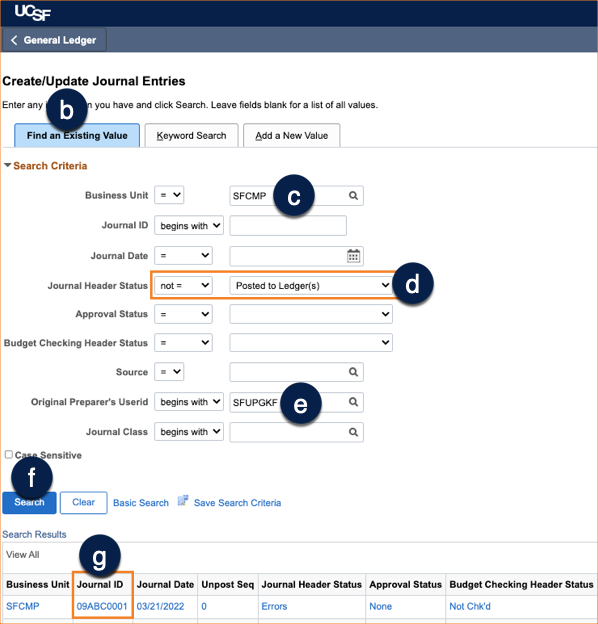 Deleting the Selected Unposted Journal
Click the Lines tab .
Select Delete Journal from the Process drop-down menu .
Click the Process button .
Click Yes( ) to confirm you want to delete the selected journal.
It can take some time to process the deletion of a journal. You will know this is still in process by the process indicator (
) in the middle of your screen.
When the "physical" deletion process is complete, you will receive a confirmation message. Click OK to confirm .