Establishing New Cash Handlers
Cash handlers must have a background check on file. Proof of background check completion must be maintained on file within the department as well as the appropriate HR Service Center.

Employees hired prior to March 13, 2017 who do not have a background check are required to complete a background check with the UCSF Police Department.
Employees hired on or after March 13, 2017 have already completed a background check as part of the pre-employment process and therefore do not need to complete a new background check.

Cash handlers are required to complete the online "UCSF Cash Handling Training" in the UC Learning Center upon hire, and then annually thereafter.

Departments should ensure employees meet this obligation.

Supervisors and Managers should be able to assign this training using their manager dashboard in the UC Learning Center by clicking on the My Team logo and then clicking Manager Dashboard:

Supervisors and Managers who cannot assign this course to the employee in the UC Learning Center must send an email request to

[email protected]

. Include:

Employee's full name
Employee's email address
Employee's UCSF employee ID
Request the new cash handler be assigned to the UCSF Cash Policy Highlights training

Departments should email the following information for any new cash handlers to the Controller's Office Cash & Controls Team:

Name
Phone Number
Email Address
Deposit Location Number
Department Name
Department Box Number
Department Physical Address
Name of supervisor/manager
Handling Checks in Foreign Currency
For all checks received payable in foreign currency, take the following actions:
Endorse the check immediately upon receipt
Send the check, department deposit slip (including carbon copies), and the email address of the departmental contact to:

Controller's Office
Attn: Cash and Controls Team
Box #0815
The Cash and Controls Team will send the check to Bank of American for deposit via an overnight carrier for tracking purposes. Once the deposit is confirmed (may take 7 to 10 business days), the Cash and Controls Team will send an email notification to the department contact with the converted US dollar deposit amount and deposit date. The department should then process journal entry.
Handling Checks Other than for Gifts and Sponsored Projects
This procedure applies to checks, money orders, traveler's checks, and certified checks. Deposits must be made once a week or whenever cash and check total is $500 or more, whichever comes first. Customer and patient information must remain confidential.
Photocopy all checks for the department's record
Endorse checks:

"For deposit only" immediately upon receipt
In the proper location on the check to avoid obscuring of important information
With a legible stamp with the correct phone number to avoid delays in department notification of a returned check
Complete a deposit slip

Ensure total deposit amount is accurate
Include tape listing of checks
Write depositor name and bag number on the deposit slip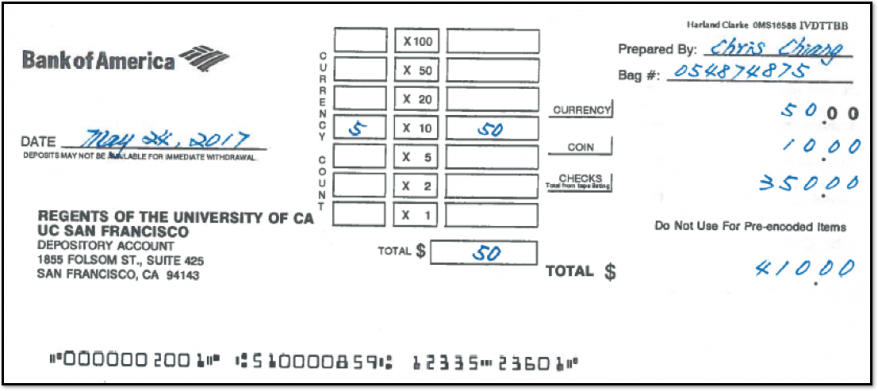 Write deposit location number on bank deposit bag
Place checks with deposit slip inside numbered secure bank deposit bag
Deposit the bag into one of the following drop safe locations

Parnassus Campus – Millberry Union: G Level, Room G3
Laurel Heights – Main lobby: near the guard station
Mission Bay – Genentech Hall: near the guard station
Mission Center Building – Main lobby: near the guard station
San Francisco General Hospital – Bldg. 20, 4th Floor: Near Room 2403, Ward 24 - TEMPORARY CLOSURE: No deposit or pickup service
Mt. Zion Hospital – 1st Floor: near the Security Office
Deposit directly at Bank of America or armored car pickup
Handling Checks Received as Gifts
All gifts to University of California San Francisco or University of California San Francisco Foundation should be sent to the UCSF Foundation's Union Bank of California Lockbox along with copies of relevant backup documentation for deposit and processed by Gift Administration. Departments should not deposit gifts into the campus ATMs.
Mail the completed gift transmittal form and all backup documentation to:
Mailing Address
UCSF Foundation
P.O. Box 45339
San Francisco, CA 94145-0339
For gifts sent by courier requiring that a street address is specified:
Street Mailing Address
Lockbox/Item Processing Operations
MUFG Union Bank, N.A.
Attn: UCSF Foundation Lockbox 45339
1751 Harborbay Parkway
Suite 100
Alameda, CA 94502
If you have questions about handling gift checks, contact Gift Administration Customer Service.
Handling Cash or Currency Received as Gifts
There is a special process for gifts received in the form of cash or currency:
Complete the Gift Transmittal Form
Email the completed Gift Transmittal Form to Gift Administration Customer Service
SECURE THE CASH/CURRENCY in your department and Await further instructions from Gift Administration!
DO NOT SEND Cash/Currency to Gift Administration!
Handling Checks Received for Sponsored Projects
Payments for all sponsored projects should be sent to the Controller's Office Contracts & Grants Accounting (CGA) lockbox. CGA invoices sponsors, records each deposit in the UCSF Research Administration System (RAS/PeopleSoft), and works in collaboration with Principal Investigators and their administering departments to ensure the accurate and timely billing and recording of sponsored projects payments. The department must NOT prepare a journal to record sponsored projects payments into the General Ledger.
For clinical trials only, departments generating and sending invoices to Sponsors must concurrently send a copy to the Controller's Office Cash and Controls Team for entry into the RAS Accounts Receivable system.
Departments must take the following steps when payment is received directly from the sponsor for a sponsored grant/contract.
Place check and all supporting documentation that accompanied the check into an envelope.
Mail to (preferred method; use for routine deposits):

UCSF Main Depository
P.O. Box 748872
Los Angeles, CA 90074-4872

For overnight delivery, when rapid delivery is necessary, by a courier requiring a street address:

Bank of America Lockbox Services
Lockbox 748872
2706 Media Center Drive
Los Angeles, CA 90065-1733

Phone: 800-376-2703

Notify the sponsor as soon as possible and have future payments sent directly to the CGA lockbox address listed above.
Incoming Electronic Funds Transfer (EFT)
Departments can accept electronic transfer as a depository option, either in the form of a wire transfer or ACH (Automated Clearing House).
Automated Clearing House (ACH) is an electronic network for financial transactions in the United States. ACH processes large volumes of credit and debit transactions in batches. It can take a few days for the money to be transferred. ACH transfers are less expensive than wire transfers. Many ACH transactions have only a small fee or no fees.
Wire Transfer is a method of electronic funds transfers that moves value from one bank account to another bank account through bookkeeping entries typically processed over the Federal Reserve Bank electronic network. Wire transfers can take place in near real time. Due to the funds' availability and speed of the transaction, wire transfer fees are typically more expensive than ACH transfers.

Wire transfers are costly.
There is a banking fee associated with this service charged by the remitter's bank and if the remitter does not pay the fee upfront, their bank will deduct the fee from the payment before transferring the payment to our University bank account. In light of this fee, Departments may want to incorporate fees into billing. The fee varies from bank to bank and for domestic versus international transfers. Therefore, an exact amount cannot be determined up front. However, the average is approximately $25.00.
To ensure accurate and prompt accounting for EFTs, please follow these steps:
The remitting agency or person must provide the banking information to the sending bank:

For Wires

Bank and Bank Address
Bank of America
100 West 33rd Street
New York, NY 10001
ABA Routing No - 026009593
Bank Account Name - Regents of the University of California, San Francisco
Bank Account No. - 12335-23601
SWIFT Code (for international wire transfers) - BOFAUS3N

For ACH

Bank and Bank Address
Bank of America
2000 Clayton Road
Concord, CA 94520
ABA Routing No. - 121000358
Bank Account Name - Regents of the University of California, San Francisco
Bank Account No. - 12335-23601
SWIFT Code (for international wire transfers) - Not applicable

The remitter must provide their bank with the following addendum information:

The name and phone number of the person in the Department to contact
The name of the agency that is remitting payment
Purpose of the EFT and identifying numbers (invoice, student ID, etc.). For sponsored projects this should include one or more of the following:

Proposal Number or UCSF Award Number
Award title
PI name
Details of any breakout of payments, where applicable

See the Bank of America Account/Routing Number Confirmation Letter if a bank certification letter is required.
On a daily basis, UCSF receives both international and domestic funds in the form of Automated Clearing House credits (ACH) and wire transfers. These funds are deposited into UCSF's Bank of America account #XXXXX23601 following the steps above and recorded in the UCSF General Ledger (GL) in Account 10110 (Cash-BofA). Funds are often intended for campus departments, and recipient departments often do not know when their funds may be deposited into the campus bank account. See Undistributed ACH/Wire Payments for more information on how to identify and claim incoming payments.
Resources
References
Forms
Policies